Today, October 11, is National Coming Out Day. This day could have easily come and gone without my remembering it had I not seen a post from someone else on Facebook. I've been "out" for so long that this day holds little meaning to me anymore, and I have done little over the past couple decades besides note its passing. I'm sure there have been a couple years I have forgotten.
But this year is different. Today marks the 30th anniversary of the second National March on Washington for Lesbian and Gay Rights. (The first took place in 1979.) National Coming Out Day was established in 1988, on the first anniversary of the 1987 march.
I was there. That was a momentous weekend for the LGBT movement as well as my own life. I haven't thought about the march for years, but the memories have been flooding back all day.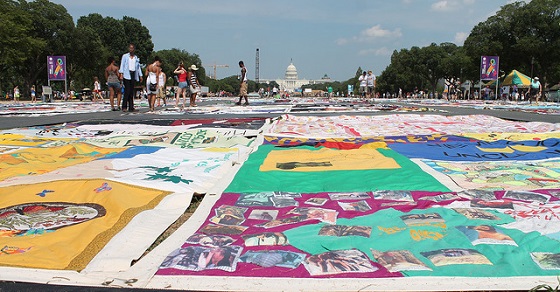 The march was as much about AIDS as it was about LGBT rights, of which we had none. The AIDS memorial quilt was spread out across the National Mall, making its first appearance in Washington, DC. With 1,920 panels on display, it seemed huge (and it was). I wandered up and down the aisles, staring at the names. I don't think anyone I knew had been memorialized on the quilt at that point, although some would be added during the coming years (including a former boyfriend). But I didn't need to know them. Their names, pictures, and the 3' x 6' pieces of fabric art created in their memories conveyed the message loud and clear: these were real everyday people, just like me. There, but for the grace of God, was I. I cried. I rarely cry for any reason, but I cried that day.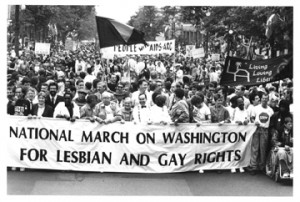 I remember marching in the parade with my band, DC's Different Drummers. Other LGBT bands from around the country came too, and we all marched in the parade. We also performed a huge band concert, along with the Gay Men's Chorus of Washington and the Denver Women's Chorus, in DAR Constitution Hall. That event is memorable not only for the palpable joy and sense of community it fostered, but also for the fact that it began about an hour and a half late. When the venue's ushers learned that this was a gay event with a largely gay audience, they refused to show up. They feared contracting AIDS by simply taking the tickets from patrons as they entered. I'm sure general revulsion and disapproval of homosexuality played a part too. So all of the patrons had to funnel through a single door, delaying the start of the concert. Nobody let that dampen their spirits. It was a wonderful evening of music.
At the rally on the National Mall, speakers included Rev. Jesse Jackson, Latino rights activist Cesar Chavez, actress Whoopi Goldberg, and former National Organization for Women president Eleanor Smeal. In spite of all the motivational rhetoric of the speeches, I couldn't help but wonder what the point was. The event was taking place on a weekend. Nobody from the White House or Congress or the Supreme Court heard a word that was said. They probably didn't even know the event took place. Typical of the times, the nation's three major newsmagazines, Time, Newsweek, and U.S. News & World Report, made no mention of it whatsoever. What was the point?
I discovered the point six years later at the 1993 National March on Washington for Lesbian and Gay Rights. That event was huge – it dwarfed the 1987 march. The parade lasted all afternoon (I spent much of the day waiting to step off). Sadly, the AIDS Memorial Quilt had increased in size several times as well. But on that day, I heard speaker after speaker say that they had attended the 1987 march and gone back home motivated and inspired to do something. In the ensuing six years, they formed organizations, spread information, rallied supporters, and made progress. On that day, I learned that the march wasn't really for the politicians or the opposition (who probably wouldn't have changed even if they had known about it or heard the message), it was for us. And in hindsight, it was hugely successful.
The LGBT community has come a long way since 1987.
One of the demands of the 1987 march was legal recognition of lesbian and gay relationships. It would be 13 years before Vermont created civil unions, 17 years before Massachusetts became the first state to legalize same-sex marriage, and 28 years before the Supreme Court would rule for nationwide marriage equality. Today, we have it.
The repeal of state sodomy laws had suffered a massive setback the previous year (1986), when the Supreme Court had ruled in Bowers vs. Hardwick that such laws were constitutional. (Another event that took place during the 1987 march weekend was a massive civil disobedience action on the steps of the Supreme Court to protest that ruling. Police handled the arrested demonstrators wearing rubber gloves.) Today, those laws have been relegated to the scrapheap of history, having been overturned in 2003.
We still have AIDS, but with the array of treatments available people can still live long lives. We now have PReP to help stop the spread of the disease. A vaccine appears to be close at hand (although we have been hoping for that for years). Most important, there is no longer widespread hysteria and discrimination surrounding the disease and those who have it.
Lesbians and Gays can now serve openly in the military. The right of Transgender people to serve is now under attack.
We still don't have any laws prohibiting discrimination in employment or housing at the federal level, although some states have such laws. With Republicans in control of both houses of Congress and the White House, this is still years away. Still, most employers now have non-discrimination policies in place, as well as inclusive benefits and training. Most LGBT people can be open at work without fear of getting fired or having their advancement halted.
LGBT people are portrayed much more positively in the news and entertainment media.
Most significantly, the majority of Americans now support equality.
The times have changed radically in the past 30 years, although on a day-to-day basis it has seemed painfully slow.
All of this is probably why National Coming Out Day seems to no longer carry the significance or the general notice that it once did. But until every child can come out to his or her parents without fear of reprisal or abandonment, and until everyone can participate fully in society without discrimination, I think we still need it.
---
Please visit Back2Stonewall.com and OutHistory.org to read more. The first link also contains three videos about the 1987 March.
© 2017 Dave Hughes
Photo credits:
AIDS quilt: Elvert Barnes. Some rights reserved.
AIDS quilt buttons: National Museum of American History. Some rights reserved.
March on Washington parade photo and poster: OutHistory.org. Some rights reserved.