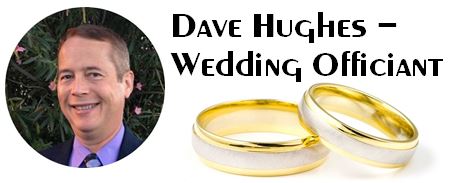 You may pay your deposit, the remaining balance, or the full amount on this page.
The best time to pay the deposit is when you have decided for sure that you want me to be your officiant. The deposit signifies that you wish to secure my services as your officiant on the date we have agreed upon. After receiving your deposit, I will accept no other clients or make any other commitments that will conflict with your wedding, including travel time.
You may pay with Visa, Mastercard, Discover, American Express, PayPal balance, or bank account transfer. You don't need to have a PayPal account to use PayPal.
If you don't want to use PayPal and would prefer pay by check, please contact me and I will give you my address. Please make the check payable to "David R. Hughes."
The balance is due on or before the day of the ceremony. I accept cash, check (made payable to "David R. Hughes"), credit card (I can swipe your card with my phone, unless we are in a remote area without coverage), or you can pay online here.