About Dave
Author, Wedding Officiant, Jazz Trombonist
About Dave Thanks for visiting my web site and for clicking here to learn a little more about me. If I must attach labels to who I am and what I do, then (in no particular order) I am a writer/author/blogger and public speaker (which is the main focus of this web site), a wedding officiant, a jazz musician, and a presentation skills instructor/coach. I write a blog called Retire Fabulously!, and I am working on a series of books about retirement lifestyle planning.
I write about retirement lifestyle planning over at RetireFabulously.com. I have one published book, "Design Your Dream Retirement." Check it out! On this site, I write about other things, such as observations about life and what's going on in my life. It's my online soapbox.

I am available to officiate weddings and vow renewals. Visit CeremoniesByDave.com to learn more. I also officiate funerals and serve as Master of Ceremonies for conferences, retirement parties, and similar events.

I primarily play jazz. I'm currently in Desert City Jazz (DesertCityJazz.org) and the Wednesday night band at Paradise Valley Community College. I am available to play in theatre pit orchestras, accompany choral groups, and anything else you might need a trombone for. I also play electric bass.

I am experienced and well-versed in modern presentation skills and public speaking. I am available to give speeches or workshops about retirement lifestyle planning, workplace diversity, communicating for excellence, and other topics. Visit PresentingForExcellence.com to learn more.
Latest Blog Posts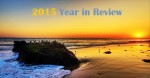 2015 Was a Good Year
Last year, I decided to take a more structured approach at evaluating each year as it comes to a close, as well as setting some more purposeful and measurable goals for the coming year. (I'll write about that next.)
Here's my look back at 2015. Overall, I was very happy with this year. I had some good successes, some wonderful experiences, and I am surrounded by a wonderful husband, a nice home, many good friends, and I have enjoyable, rewarding activities to participate in.
I didn't accomplish everything I set out to do – not by a long shot. Maybe the goals I set for this year were too ambitious. But I accomplished a lot, and most important, I enjoyed my life.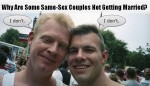 The Supreme Court decision on June 26, 2015, which made same-sex marriage legal everywhere in the United States, was a huge, monumental win for fairness and equality.  The decision made it clear that same-sex couples would be legally married anywhere they live or travel in the U.S., and it put an end to court cases and appeals that were still in process.
By the beginning of 2015, marriage equality had already come to 36 states, the District of Columbia, and numerous Indian reservations, covering roughly three-fourths of the population.  That means that in all these jurisdictions, couples have already had anywhere from six months to ten years in which to get legally married. Many have, but many have not.
Marriage equality arrived in my home state of Arizona over eight months ago, on October 17, 2014.  Shortly after that, I became an ordained minister and went into business as a wedding officiant.  As of this date (June 28), I have officiated 54 weddings; 49 of which were for same-sex couples.
Yet, I'm surprised by how many long-term couples in my network of friends and acquaintances have not yet legalized their union, and apparently have no plans to do so.
Why?
Read more about Why Are Some Same-Sex Couples Not Getting Married?
Previous
Next